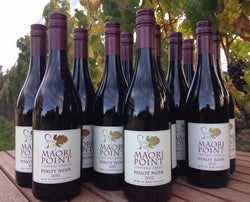 Maori Point Vineyard
15-bottle Pinot Noir Vertical (2015-2019) - Special Pricing & Free Shipping
Experience five beautiful vintages of Maori Point Pinot Noir, at a special discounted price & free shipping to the USA. Contains three bottles each of our estate Pinot Noir from 2015, 2016, 2017, 2018, and 2019. These wines demonstrate the flavours and textures that make our Maori Point Vineyard, in the Central Otago region of New Zealand, so intriguing (and so award-winning). From the cooler and more linear 2015 and 2016 vintages, through the concentrated 2017, the delicate 2018, and the richly-layered warm vintage of 2019, these wines will please any connoisseur, but they also form a great introduction to New Zealand Pinot Noir.  
When possible we recommend you open them up side by side, to best illustrate how different growing seasons and aging can influence Pinot Noir. We craft our wines using sustainable hand-based viticulture, low yields, small fermentations by native yeasts, minimal processing, and no filtering.
These wines are ready to drink now, but they respond well to decanting. Cheers!