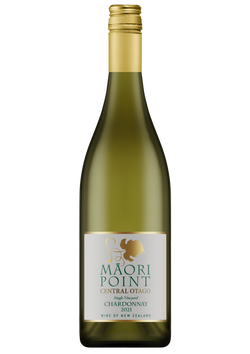 Maori Point Vineyard
2021 Maori Point Chardonnay
Every few years, for especially promising vintages, we make a Māori Point Chardonnay. In 2021, we worked with Te Kano Estate to source Chardonnay grapes from their Ridge Vineyard in Bendigo, near Northburn. These vines are quite young, but the growing season of 2021 was ideal for them, and we were able to harvest grapes that were beautifully ripe and balanced. 

Grapes were hand harvested on April 16 and whole-bunch pressed. The wine was fermented by wild yeasts in oak barrels at Māori Point, and allowed to mature on lees in barrels for 10 months. The long cool fermentation and extended time on lees (with some lees stirring) in the Māori Point barrel hall contribute to a richly textured and yet classically structured Chardonnay. Flavours of meyer lemon, apple, chamomile and caramel transition to hazelnut and buttery brioche, accented by a long finish. Delicious now and will age well for 8 or more years. 
Technical notes: 14% alcohol, pH 3.3. Vegan friendly, minimal sulfites.