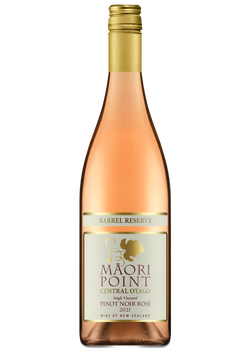 Maori Point Vineyard
2021 Pinot Noir Rosé - Barrel Reserve
A dry, subtle, and yet strikingly complex Rosé that is made differently from other Rosés. It starts with 100% Pinot Noir grapes, harvested by hand. After destemming and crushing they spend eight hours soaking with the skins to absorb just the right colour and flavour. After pressing, this juice goes into French oak barrels to be fermented by wild yeasts from the vineyard. The wine is allowed to slowly ferment to dryness, and given time to grow more complex from contact with the lees. In total, this Rosé spent twelve months in barrel. Most Rosé never even goes into a barrel!

The result is an elegantly restrained Rose, yet one that shows beautiful nuance with subtle berry fruit, peaches, hints of caramel and spice, a background of dried herbs, and beautiful length.

Simply stunning with food. Vegan-friendly, low sulfites. Only four barrels made.