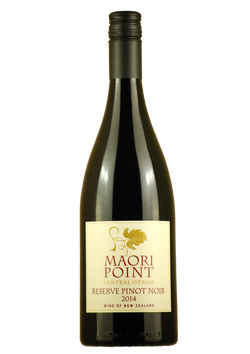 Maori Point Vineyard
2014 Maori Point Reserve Pinot Noir
GROWING SEASON
2014 was very settled, characterized by a warm spring with few frosts, and gentle winds. Flowering was in early December and calm weather led to an excellent fruit set. After a cooler-than-usual January, we settled into a warm Indian summer culminating in an early harvest, starting April 8th. Crop level was slightly higher than average, with grapes in perfect condition.
VINEYARD AND WINERY PRACTICES
Grapes were harvested by hand, completely de-stemmed, crushed, and placed in small open-top vessels. Fermentation was performed by native wild yeasts. Once dry, the wine was pressed and placed into oak barrels. During maturation we repeatedly taste the barrels from our favorite area of the vineyard - the "Professors Block" - and in 2014 we found four barrels from that block that stood apart as a concentrated articulation of the vintage. Those four barrels became this Reserve, and ultimately spent sixteen months in oak barrels, 50% new. The wine was bottled without fining or filtering.
TASTING NOTES
Classic Pinot Noir power without weight. Sweet raspberries and cloves, liquorice and vanilla with hints of violets and wood spice. Contrasting notes of florals and earth are layered amid fruit and spice. Well-structured yet supple mouthfeel, fine-grained tannins, and a long savoury finish, indicate that this wine will age well for at least 10 years after release. 14.1% alc. Vegan friendly.